Refractory Engineer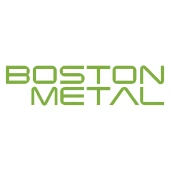 Boston Metal
Woburn, MA, USA
Posted on Tuesday, November 21, 2023
Boston Metal is commercializing cutting edge extractive metallurgy technology that will revolutionize primary metals production by improving metal quality while decreasing cost and lowering environmental impact. This fast-paced startup company is looking for a Refractory Engineer with experience in high temperature ceramics and refractories used in furnace linings to handle molten metals and slags. Duties will include working with a small team of engineers that are focused on the design and commissioning of new Molten Oxide Electrolysis (MOE) cells.
Required Experience:
5+ years in design, ceramics work and working with high temperatures. Experience with commissioning or remanufacture of metallurgical furnaces/smelters (i.e. Arc furnaces, aluminum Hall-Heroult Cell, Blast/BOF furnaces or similar).
BS Degree (or MS) from accredited university or college in one or more of the following areas: Mechanical or Chemical Engineering, Metallurgy, Materials Science or Process Engineering.
Highly Desired Skills & Experience:
Experience with high-temperature processes >1500°C
Refractory ceramics materials use and/or development
Computer Aided Design (CAD) – Solidworks preferred
Molten metal experience – Tapping and/or casting
High current electricity – Arc heating/melting or electrolysis cells
Heat Transfer and thermal design
Materials or Metallurgical Research
Process Engineering – Metallurgical Industry preferred
Experience working in small teams & start-up atmosphere
Additional Information:
You will be working in a small team environment where teamwork and good relationships with other team members is critical. Many of our staff members are required to wear Personal Protection Equipment (PPE) and you should be prepared to do so as well when necessary.
We are currently working both remotely and in-person as needed to maintain and adhere to COVID-19 guidelines. You must have the ability to manage your time and resources appropriately.
Boston Metal is an equal opportunity employer, all qualified applicants will receive consideration for employment without regard to race, color, religion, national origin, age, sex, sexual orientation, gender identity, genetic information, ancestry, disability, or military status.
Please provide resume AND cover letter if interested.