Mechanical Design Engineer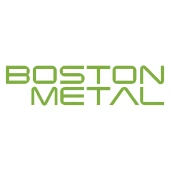 Boston Metal
Design
Woburn, MA, USA
Posted on Tuesday, November 21, 2023
Boston Metal's molten oxide electrolysis cells are commercializing cutting edge extractive metallurgy technology that will revolutionize primary metals production by improving metal quality while decreasing cost and lowering environmental impact. This fast-paced startup company is looking for a Mechanical Design Engineer to join our passionate team.
Responsibilities include all tasks of the design and procurement process of cell components. This includes creation of conceptual designs, 3D solid models, detailed drawings and BOMs. Also required are all steps in the procurement process: RFQ creation, vendor selection, and active managing of vendors on PO.
The Cell Engineering team is also responsible for supporting existing cells to identify root causes and implement fixes to problems with cells that are up and running. This requires collaborating with the 24/7 operations staff to ensure ongoing tests are safe and productive for the technology development process.
Additional Duties:
· Working around large and hot machinery, using a variety of personal protective equipment
· Designing around key program requirements
· Interfacing with other designers at cell assembly interfaces
· Working closely with R&D to ensure the cells will support their needs
Required Skills & Experience:
BS or higher in Mechanical Engineering or Mechanical Engineering Technology and experience in engineering or design-related projects developing complex, technical, or integrated products.
· Understanding of GD&T and its relevance in assemblies
· Designing for manufacturability, particularly with sheet metal and weldments
· Working knowledge of 3D modeling and drafting.
· 2-4 years Solidworks experience
Additional Information:
You will be working in a small team environment where teamwork and good relationships with other team members is critical. We routinely wear Personal Protection Equipment (PPE) and you should be prepared to do so as well.
We offer a full benefits package including health, dental, vision, life and disability insurance, paid vacation & holidays, and a 401k with company matching provision.
Boston Metal is an equal opportunity employer. All qualified applicants will be considered for employment without regard to race, color, religion, national origin, age, sex, gender identity, sexual orientation, pregnancy or pregnancy-related condition, disability, ancestry, genetic information, veteran or military status, or any other characteristics protected by applicable federal, state or local law.
Please provide resume if interested.