R&D Pilot Scale Program Engineer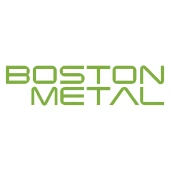 Boston Metal
Woburn, MA, USA
Posted on Saturday, October 28, 2023
Boston Metal is commercializing cutting edge extractive metallurgy technology that will revolutionize primary metals production, while decreasing cost and lowering environmental impact. This fast-paced startup company is looking for an R&D Pilot Scale Program Engineer to join the team.
You will lead the preparation and execution of the pilot-scale program at Boston Metal to progress out molten oxide electrolysis technology towards commercialization. You will work closely with our R&D and Operations teams to plan, prepare, and execute on the pilot-scale programs at Boston Metal.
Job Duties
Organize the build and operation of the pilot-scale cells.
Work with R&D engineers and scientists for metallurgical, ceramic, and elemental analysis following conclusion of campaigns.
Perform mass balances and current-efficiency calculations to gauge system performance.
Responsible for the creation and maintenance of standard operating procedures.
Attend safety meetings and assist in the implementation of new sub-systems.
Lead weekly campaign planning meetings to prepare campaign plans and accompanying documentation.
Report on program progress during monthly R&D meetings.
Manage supply chains for consumables and maintain inventory of critical components.
Required Experience
Hands-on experience in academic research or technical environment conducting laboratory-scale experiments, materials processing (casting, welding, coating, etc.), sample preparation and analysis, data analysis/reporting. Bachelor's or Master's degree in Materials Science or Metallurgical Engineering, Chemical or Mechanical Engineering.
Desired Experience & Skills
B.S. in chemical engineering (or similar)
Experience in program management (PMP a plus)
Familiarity with MATLAB, Python, or similar
Highly organized
Adaptable and willingness to work in a quick-changing environment
Experience with materials processing: casting, welding, coating, cladding, etc.
Metallographic and other sample preparation and analysis.
Data analysis and reporting.
Experience with CAD software.
Additional Information
You will be working in a small team environment where teamwork and good relationships with other team members is critical. We routinely wear Personal Protection Equipment (PPE) and you should be prepared to do so as well.
We offer a full benefits package including health, dental, life and disability insurance, paid vacation & holidays, company contributed health savings account, and a 401k with company matching provision.
Boston Metal is an equal opportunity employer. All qualified applicants will be considered for employment without regard to race, color, religion, national origin, age, sex, gender identity, sexual orientation, pregnancy or pregnancy-related condition, disability, ancestry, genetic information, veteran or military status, or any other characteristics protected by applicable federal, state or local law.