R&D Electrochemical Scientist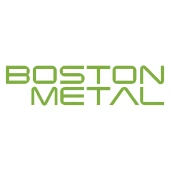 Boston Metal
Other Engineering
Woburn, MA, USA
Posted on Saturday, October 28, 2023
Boston Metal is commercializing cutting edge extractive metallurgy technology that will revolutionize primary metals production by improving metal quality while decreasing cost and lowering environmental impact. This fast-paced startup company is looking for an R&D Electrochemical Scientist to join our growing team.
The role will have primary responsibility for:
Designing research towards the optimization of electrochemical processes for extractive metallurgy.
Conducting experiments on existing high temperature electrochemical testing setup.
Developing new experimental protocols related to the characterization of electrochemical properties of molten oxide.
Improvement and maintenance of the existing experimental testing setups and materials characterization equipment.
Data analysis and communication of results company-wide.
This electrochemical scientist will collaborate with the R&D team on the laboratory-scale research programs as well as with the engineering team for the development activities of full-scale industrial experiments.
Required Experience
5+ years of experience with electrochemical research or engineering in a technical environment. MS/PhD from accredited university or college in one or more of the following areas: Materials Science, Chemical Engineering, or a closely related field.
Strong theoretical background in electrochemistry with proven ability to perform data analysis and modeling, track record in novel electrochemical research, demonstrated ability to independently plan and implement research programs.
Desired Experience & Skills
Experience with experimental electrochemical cell setup
Materials or metallurgical research
Experience with high-temperature setup/system
Experience with thermodynamic modeling and calculations (FactSage preferred)
Experience in research with large data sets
Analysis Scripting in Matlab or Python
Experience using Labview
Materials characterization
Additional Information:
We offer a full benefits package including health, dental, vision, health savings account, life and disability insurance, paid vacations and holidays, and a 401k with company matching provision.
You will be working in a small team environment where teamwork and good relationships with other team members is critical. We routinely wear Personal Protection Equipment (PPE) and you should be prepared to do so as well.
Boston Metal is an equal opportunity employer. All qualified applicants will be considered for employment without regard to race, color, religion, national origin, age, sex, gender identity, sexual orientation, pregnancy or pregnancy-related condition, disability, ancestry, genetic information, veteran or military status, or any other characteristics protected by applicable federal, state or local law.
Please provide resume AND cover letter if interested.